LANmark-OF MG Indoor/Outdoor LSZH 48-96core APAC Region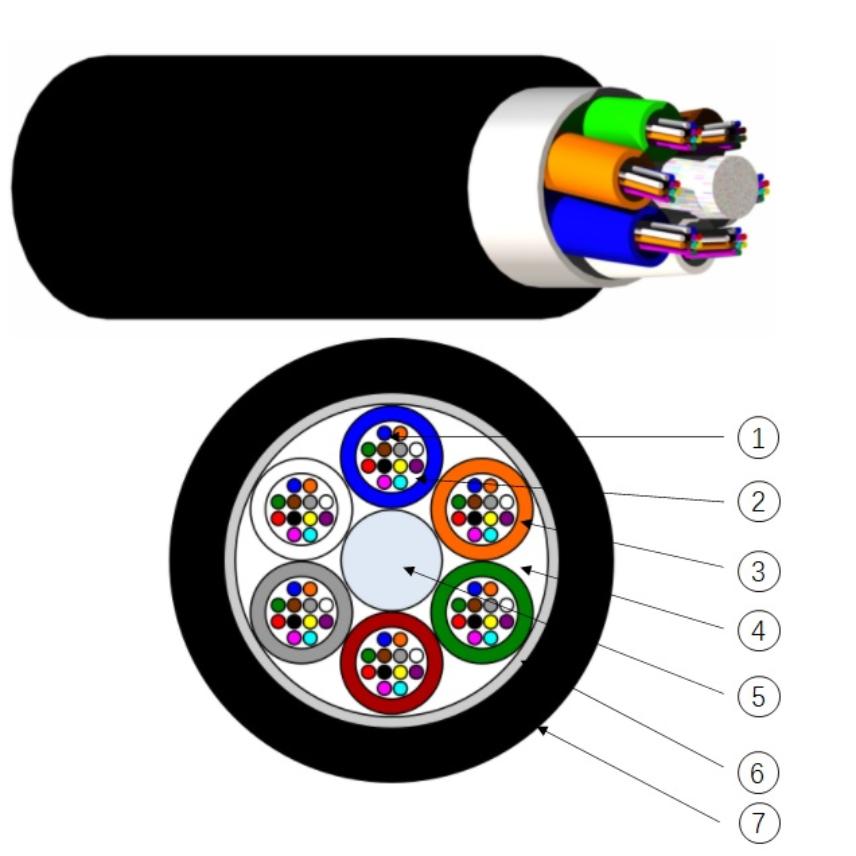 Suitable for indoor/outdoor installation
Gel filled tube
Available to multimode and singlemode fibre
Outer Jacket is Low Smoke Zero Halogene (LSZH)
Read more
Description
Description
Standards
International

IEC 60332-1; IEC 60332-3 Cat.C; IEC 60793-2-10; ISO/IEC 11801

National

ANSI/TIA-568-C.3
Description and Application

Nexans LANmark-OF MG fibre cable is designed for universal indoor and outdoor applications.
The cable consists of multitube loose tube structure surrounded by watertight glass yarns and a LSZH jacket. The cable is watertight
due to the gel in the loose tube and the watertight yarns. The glass yarns also provide basic rodent protection. The cable can be installed indoor and outdoor in a duct. The cable is available for both SingleMode and Multimode fibres.
Construction

Legend accompanying the cross section drawing:
Optical fibres (250 um)
Waterproof gel filling
Loose tube
Watertight Glass Yarn
FRP Centre reinforcement core
Waterproof yarn
LSZH outer jacket with UV resistant additive

Characteristics

Flame retardant (IEC 60332-1) and fire retardant (IEC 60332-3-24)
Designed for termination by splicing
Multiple loose tube design
Central strength member
Waterproof structure and UV-resistant
Available in Multimode and Singlemode fibre
Available from 48-96 fibres
Characteristics
Characteristics
Construction characteristics
Construction characteristics
Mechanical characteristics
Mechanical characteristics
Crush resistance (IEC 60794-1-E3)
Mechanical resistance to impacts (IEC 60794-1-E4)
Usage characteristics
Usage characteristics
Ambient installation temperature, range
Operating temperature, range
Storage temperature, range
Our websites
Select your country to find our products and solutions